Introduction
Before we learn about Biml development, we need to setup our system with the software necessary to write and build Biml code. Presently, there are two primary tools that you can use to author and compile Biml solutions. The following sections describe those options and provide instructions for installing them.
BIDSHelper
BIDSHelper is a free and open source add-in to Microsoft Visual Studio that adds features to the standard tools for SQL Server, SSIS, SSAS, and SSRS development. In other words, if you are already using Microsoft BIDS or SSDT, install BIDSHelper and you'll have a better experience with more features. BIDSHelper adds over 60 features to BIDS/SSDT, only one of which is the Biml package generator. Whether or not you choose to use BIDSHelper for Biml, you should probably consider using BIDSHelper for its other features.
BIDSHelper only includes a subset of Biml functionality (see below for a full comparison chart), but that subset is very generous and includes almost all SSIS functionality. In short, especially for SSIS development, BIDSHelper is a great choice to get started using Biml in your data development projects.
BIDSHelper offers both an installer exe and xcopy based deployment so that you can use the add-in even if you don't have administrator privileges on your machine. To install, download BIDSHelper for your version of SQL Server from CodePlex.
Once you've installed BIDSHelper, you will find new menu options in Solution Explorer. Right-clicking on the project root node in Solution Explorer will now give you an option to add a new Biml file. Right-clicking on one or more Biml files will now give you the option to build those Biml files into packages, connection managers, and other assets that are added to your solution. Here is a screenshot of what this looks like: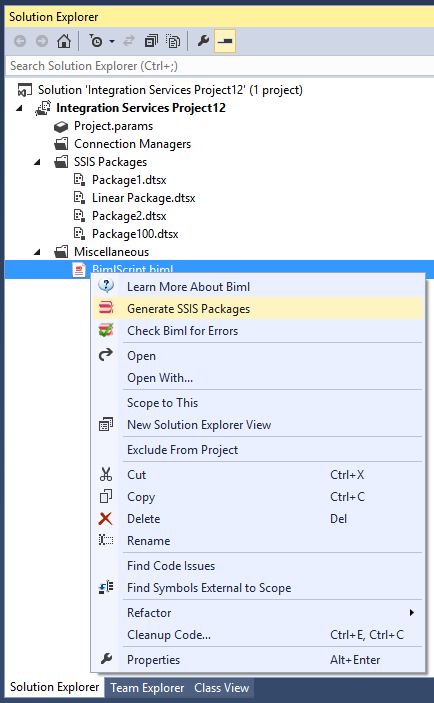 For more information about how Biml features work within BIDSHelper, take a quick look at the BIDSHelper documentation located here:
https://bidshelper.codeplex.com/wikipage?title=Biml%20Package%20Generator
Mist
Varigence Mist is the first and only integrated development environment made specifically for Biml development. Mist offers all features available in BIDSHelper Biml, plus relational modeling support, SSAS, support, visual designers, build automation, Biml transformers, and much more.
For those building enterprise, large team, or automated solutions, Mist is usually a better choice than BIDSHelper.
You can obtain a free trial of Mist at the varigence.com website: https://varigence.com/FreeTrial
Comparing BIDSHelper and Mist
Though we've covered some of the main differences between BIDSHelper and Mist above, it usually helps to have everything conveniently laid out in an easy-to-read table:
Conclusion
Whichever tool you choose to use, you'll find that Biml development offers tremendous advantages over traditional SQL Server, SSIS, and SSAS development tools. And now that you have one of the tools setup on your machine, we can dive head first into learning about Biml and how to write our own Biml code!
Finished?
Complete the lesson Biml Tools: